Toolbar Button Creator - Autohotkey Command Tool.
Buttoncommander - Windows Automation Software - For Tablets and Desktop Computers.
With this Toolbar Button Creator, you can make on your Windows Desktop a coupple of Clickable Picture buttons with executable Autohotkey Commands. You can push these Buttons with your Mouse or Touch Devices, and then it will do for you, any kind of Computer Movements so that you can save time to work faster and better on your Windows Computer System. there are two ways to build the Toolbar Buttons: the first one is to make transparante buttons that you can then place on any sort of Pictures. The second one is to make buttons with Pictures.
Features:
You can Create Toolbars for any Applications.
Keyboard Shortcuts Macros from Button Icons.
Send Keystroke Combinations from Transparante Buttons.
Automate Mouse or Typing Movements.
Simultane Sounds.
Execute Simultane Autohotkey Scripts.
You can Make Launchpads or Enterpads.
You can Create Multiple Clipboards.
And you can Build Virtual Keyboards.
In any Window Applications you have Button Toolbars, but sometimes you want more Buttons with other functions on the Toolbar, With Buttoncommander You can make your own platform Toolbar boards, If you have a Desktop Computer It can true a innovative Popup Menu Show/Hide into your Mouse Pointer, for example Push the middle Mouse Button. And if you have a Windows Tablet, you can Show it next to your Application and then you can touch it with your touch device.(see image 1) or for full screen you can Show/Hide with double touch click. (see Image 3)
Image 3: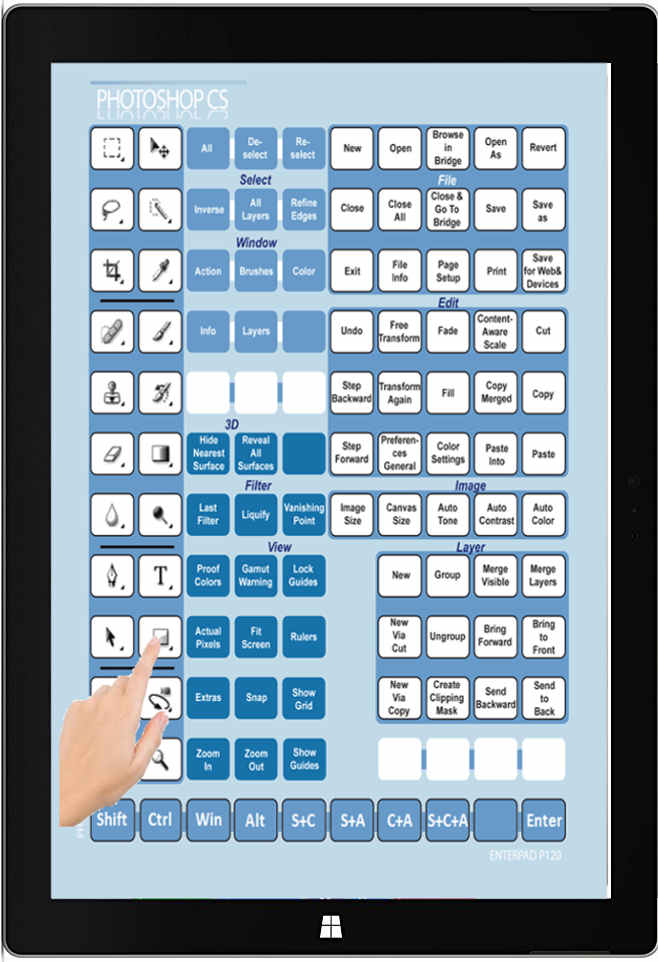 Windows Tablet with Pictures Buttons Board for Photoshop Applications
---